What is drip irrigation, and what will it do for my landscaping?
Drip irrigation is a method where small amounts of water are placed on the root ball of plants, therefore using the water more efficiently. This is done with a network of small tubes that provides water to many plants at once. A drip zone will usually run for several hours. It is generally considered to be better for most planting beds than typical watering, and it wastes almost no water.
When is the best time to install a sprinkler system?
Anytime from April 1st until frost is the best time, so contact us today to schedule your free estimate.
Will my system be warranted? Who backs up the warranty?
All Green Lawn Sprinklers provides a full, one-year parts and labor warranty with all new installations, as well as a two-year manufacturer warranty on most of the major components we supply.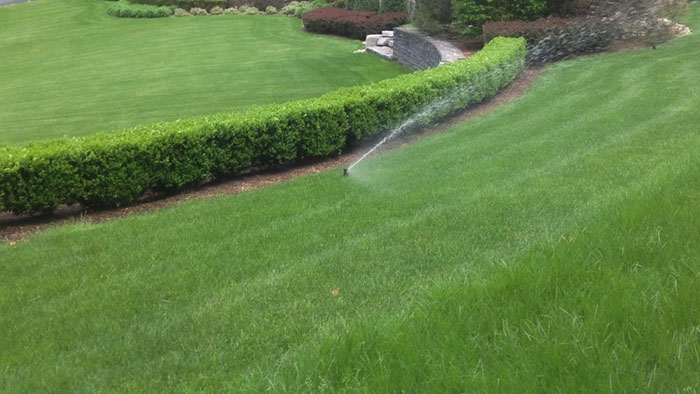 I'm having some work done at my property. Should I wait to have the system installed until they're done?
The type of work being done will ultimately determine the time frame. For instance, if you are having a new lawn installed or repaired, we would be the second to last step in the process, the last being either your hydroseed or sod. In the case of general building or construction, we can typically work around other contractors unless a large portion of our installation area is obstructed. In this scenario, it would be best to wait until the completion of the project.
Will the installation process damage my lawn?
All Green Lawn Sprinklers uses techniques that make installation less disruptive and even at times unnoticeable. We feature trench-less pipe installation on most projects by using a machine that slices the sod and lays the pipe at the same time. The sod is then laid back down back to its original position. Usually, within two weeks signs of our pipe routes will have healed over.
What will installation of a sprinkler system do for my lawn?
A properly designed sprinkler system will apply water for a predetermined amount of time at an even application rate. All too often hand watering results in overwatering some areas and under watering other areas. Another benefit of a sprinkler system is its ability to water your lawn when you are out of town or you don't have the time.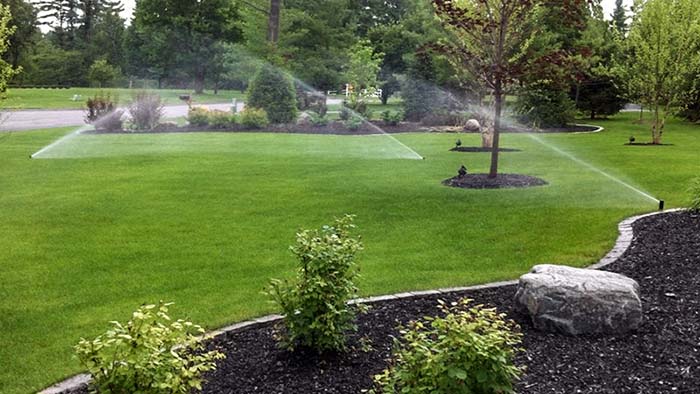 Will your design and equipment help me save water?
Your system will use the most efficient type of sprinklers and nozzles available to put just the right amount of water where it is needed. Your watering schedule will also be planned to minimize waste caused by runoff, wind drift and evaporation.
Do the sprinklers run when it rains?
No, All Green Lawn Sprinklers will install a rain sensor. This device senses rainfall, and will automatically shut down the system when significant rainfall occurs.
What kinds of products do you use?
All Green Lawn Sprinklers is using the best products in the industry, like Hunter, Irritrol, Rain Bird, and Netafim drip tubing. If you have a product you specifically want, we can get it just for you.
What type of maintenance will my sprinkler system need?
All systems should be serviced in the spring (April-June) and winterized at the end of the season (October-November). We recommend that you contact our company in both situations. We can provide you with the finest full checkup before the season starts and winterize your system at the end of the season to protect the pipes from freeze damage.
How long will it take to install a sprinkler system?
An average size property should take one day to install. A large estate home can take from three days to one week. A very large commercial system can take months, or even years to complete.
How much can I expect to pay for a sprinkler system?
The cost of a sprinkler system will vary depending on the property. The main determining factor is the total number of sprinkler heads it will take to properly irrigate your property. Some companies reduce the number of heads in their estimate to lower the final cost. In doing this they are compromising the efficiency of the sprinkler system and can cost you more money in the long run.
OUR MISSION:
To enhance the appearance of our customers' property by providing quality service, technical expertise, and quick response.
We take pride in the reliability of our professional staff and our ability to create excellence.