All Green Lawn Sprinklers, Inc. specializes in high-quality, technically-challenging and large-scale commercial irrigation projects. All Green provides state of the art irrigation systems while providing the most professional service that could be provided in the irrigation field. Our services are provided from concept to completion and beyond. With over a decade of experience in the irrigation field, it has allowed us to excel at complex jobs with tight schedules. Our past successes have been recognized by long and rewarding customer relationships and through numerous high profile jobs.
All Green Commercial Irrigation Division offers the following: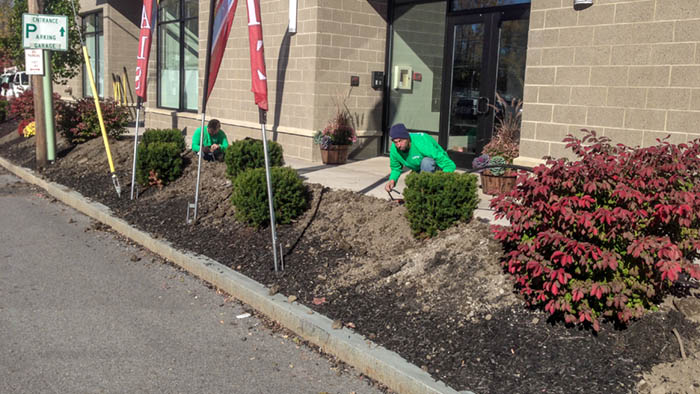 Estimating and Pre-construction Services:
All Green Lawn Sprinklers, Inc. works closely with the customer and designer to source materials, estimate costs, provide water budgets, and value-engineering services. This ensures the highest quality project on budget and on time.
Design Approach:
We believe that in order for an irrigation system to function properly the design is key. We offer irrigation design services thus allowing our designers' expertise and experience to align with the specific needs of the project. All Green partners with the industry's best engineers and designers in order to allow the customer to receive the most efficient and well-designed irrigation system possible.
General Installation:
All Green Lawn Sprinklers, Inc. provides accurate estimating, reliable pre-construction analysis, and outstanding on-site installation and maintenance services. Our installation process has been recognized as both effective and efficient, with our state of the art installation techniques and organizational skills we provide our customers with an on-time, cost, and water-efficient system.
Project Management:
Managing the installation process with the latest software and best management practices are critical to a project's success. That is why All Green Lawn Sprinklers, Inc. provides constant supervision of a well-trained project manager, allowing the worksite to remain safe and operating in an orderly manner.
After-Care Maintenance:
All Green Lawn Sprinklers, Inc. not only provides the design and installation of commercial irrigation systems but also provides full after-sale service and maintenance programs. Our staff works hard to keep our relationship with the property owners even after the initial installation process is complete. We at All Green feel that these maintenance programs are vital to the efficiency of the system as well as the beauty of the commercial property.
These irrigation services include Spring Start-ups, Monthly Inspections, Booster Pump Maintenance, Winterizations, and 24-Hour emergency response services.
OUR MISSION:
To enhance the appearance of our customers' property by providing quality service, technical expertise, and quick response.
We take pride in the reliability of our professional staff and our ability to create excellence.