Design:
All Green Lawn Sprinklers' certified irrigation designer will meet with you at your home to evaluate and discuss the water requirements for your landscape. Our designer has done extensive research into environmental elements and how factors such as excessive shade, sunlight, or poor drainage areas could affect the irrigation system. We will conduct a thorough evaluation of water pressure and volume as well as electrical sources to ensure we create the proper design and layout for your sprinkler system. Our specialist will guide you into making the right lawn care decision for your home. 
Installation:
Since 2003 All Green Lawn Sprinklers has been specializing in sprinkler systems and garden irrigation, we have developed a unique installation technique, customizing our procedure for each individual home.
We use state-of-the-art pipe-laying equipment to ensure that most irrigation systems can be installed in just one day with minimal, if any, signs of lawn disruption. For more delicate areas such as flowerbeds and vegetable gardens, the method of hand trenching is used to preserve the integrity of the existing root structure and plant material. Keeping things both neat and intact at the same time.
Repairs, Renovations, and Upgrades:
Landscape changes, pool removal, new decks, and other work can lead to necessary sprinkler repairs or renovations to your irrigation system. Whether All Green Lawn Sprinklers installed your original sprinkler system or not, we offer a variety of sprinkler repair options to all types of sprinkler systems and FREE SPRINKLER ESTIMATES to help you ensure a properly working lawn watering system. WE also offer 24 Emergency Response Services for those unplanned events that catch you off guard.
Repairs and Spring Opening:
In the spring, we open up all water and electrical sources and slowly reenergize the sprinkler lines. We perform all necessary seasonal adjustments – check and adjust all your sprinkler heads to ensure they are operating properly, program the water timer (clock), as well as check all main sprinkler lines and manifolds for leaks.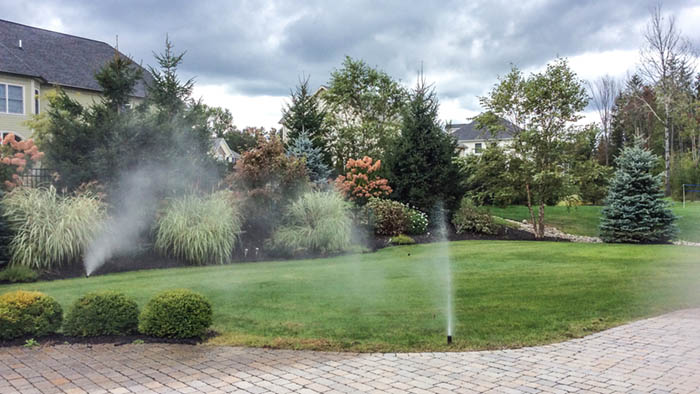 Summer Inspections:
As the seasons change, it becomes necessary to adjust the water timer and frequencies to avoid over or under watering due to temperature changes and varying weather conditions. During the summer, we will check and adjust your sprinkler heads, sprinkler pipe and drip irrigation for plant growth and other landscape changes and to ensure they are operating properly, program the water timer, as well as check all main sprinkler lines and irrigation manifolds for leaks.
Winterizations:
Snow, ice, and below-freezing temperatures can cause damage to your irrigation system, which is why we take several precautions to "winterize" or protect your sprinkler system in the Fall. We close all water and electrical sources properly and use an air compressor to blow all water out of the underground sprinkler lines. This prevents any leftover water from freezing and damaging the irrigation lines. The average winterization price is $80.00.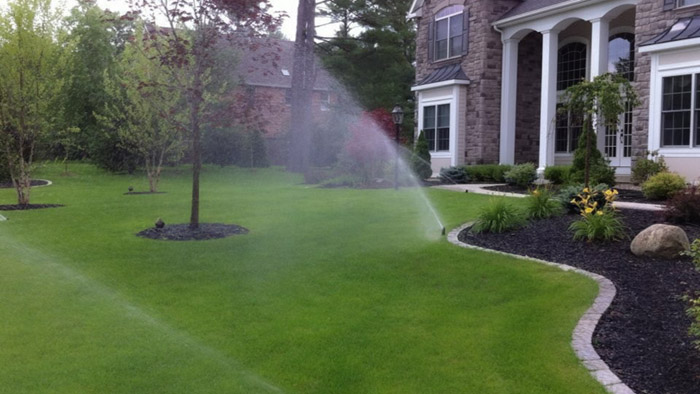 OUR MISSION:
To enhance the appearance of our customers' property by providing quality service, technical expertise, and quick response.
We take pride in the reliability of our professional staff and our ability to create excellence.